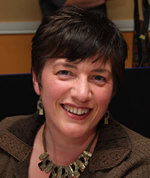 ADKC Web Design, Enniscorthy, Co. Wexford, is a Website Design and IT Training business, owned and run by Jennie Frizelle .
I create websites and Facebook pages for organisations of all sizes, but particularly for SMEs. I also provide training both privately and through the Wexford LEO (Local Enterprise Office) and the Carlow LEO, and I am a registered mentor with the Wexford LEO.
Web Design, Enniscorthy
Every business who wants to promote their products or services needs a website. The presence of a professional website greatly increases a business' credibility in today's competitive marketplace.
I specialise in the Small to Medium Enterprise (SME) area, so don't get left behind – contact me today to discuss your requirements! I work mainly with businesses in Enniscorthy, but also further afield.
Web Design Training Course
I recently ran a web design training course over three Tuesdays where people created their own professional website in a relaxed and friendly group.
They finished the course with fully completed websites that were mobile-friendly, search engine friendly, and connected to their social media platforms. They also now have the tools and knowledge to confidently maintain their site themselves.
Please contact me to find out about upcoming courses.
Facebook Training Courses

I run Facebook for Business training courses on a regular basis, both introductory and advanced – the date of the next course is still to be confirmed.
If you would like to attend, or find out more, please don't hesitate to contact me.
Wexford Local Enterprise Office Mentor and Trainer

As a mentor for the Wexford County Enterprise Board, I provide one-to-one training on the specific topics required by the individual. Visit the Get a Mentor page on Wexford LEO's website to find out more.
I also deliver business training courses for the Wexford County Enterprise Board – see the Business Training page on the Wexford LEO's website to find out about upcoming courses.
Carlow Local Enterprise Office Mentor

I provide one-to-one training for Carlow clients through the Carlow LEO's excellent mentoring program. To find out more, visit the One on One Mentoring page on Carlow LEO's website (the mentoring application form is at the bottom of that page).
Web Services
Working in the area of website design and development since 1999, ADKC Web Design has the knowledge and experience to make a host of valuable web services available to you. These services include: